1. Fill out your first and last name, email
2. Pick which service you'd like to inquire about
3. Give us a few comments (i.e., what, when, where)
4. Get a free quote within 24hrs

(647) 290-7357
rakvpto@gmail.com
CharActors Theatre
Programs designed to enhance a child's self esteem, confidence, and instill in them the importance of working as a team.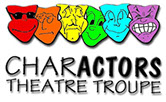 Need to Train?


Need A Princess?
Need To Swordfight?
Stage combat training of the highest calibre at their downtown Toronto studio, or at your facility.
Beautiful fairytale performers for birthdays and special events. All characters are trained singers and musical theatre performers.
Learn to defend yourself with realistic street self defense techniques. Stunt training also available for film and television.
Phone: (647) 290 - 7357 | Email: RAKVPTO@gmail.com | Copyright 2013. RAK Visual Productions